Stylish and Energy-Efficient Window Shades
MOTORIZED INTERIOR SHADES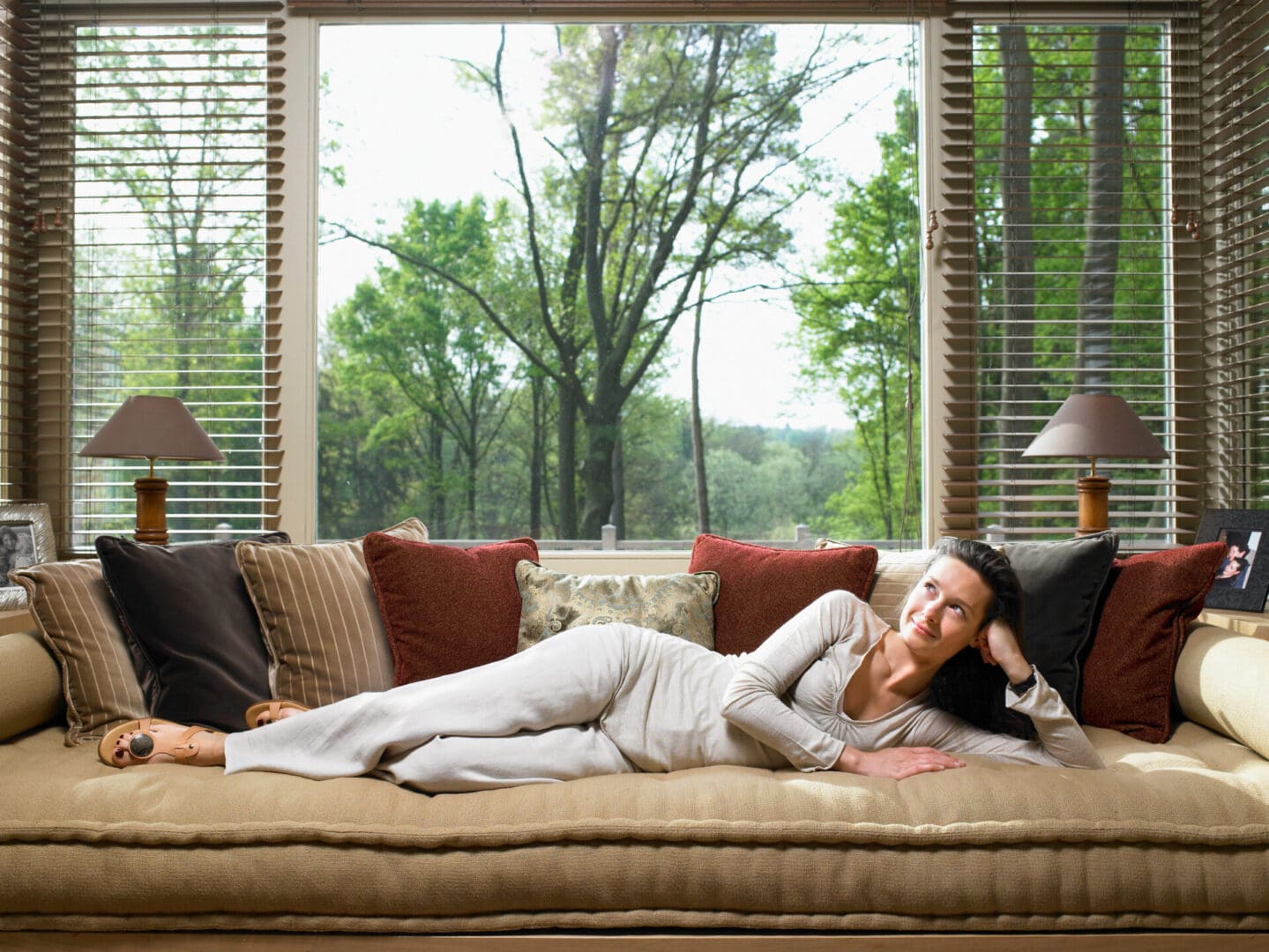 Want to open and close your shades using Alexa?
Home automation has never been easier. Our motorized interior shades, both roller and solar shades, can be used with Alexa. You can instantly open your motorized shades and close them with a single command.
Motorized shades can also be controlled with a remote. Motorization is not only convenient and safe, but it's a great option for those large or hard-to-reach windows.
Motorized shades are powered by a quiet and dependable motor, and we have options for every budget.
Motorized shades simply make daily tasks easier. Technology in homes is increasing, and integrating your window treatments with your smartphone or Alexa has never been easier. Our Somfy remotes come with a variety of different options. We offer single-channel remotes, multi-channel remotes, and virtual cord remotes. All Somfy motors are dependable, quiet, and powerful. Our remotes allow you to control a single motorized shade up to 24 motorized shades with a single remote.
Motorization makes it easy for you to operate those hard-to-reach windows. Our motorization system is easy to install and does not require hard wiring. Motorized shades are also a great choice for homes that have small children. Cords can be a safety hazard for small children and pets, so motorized shades is a perfect solution.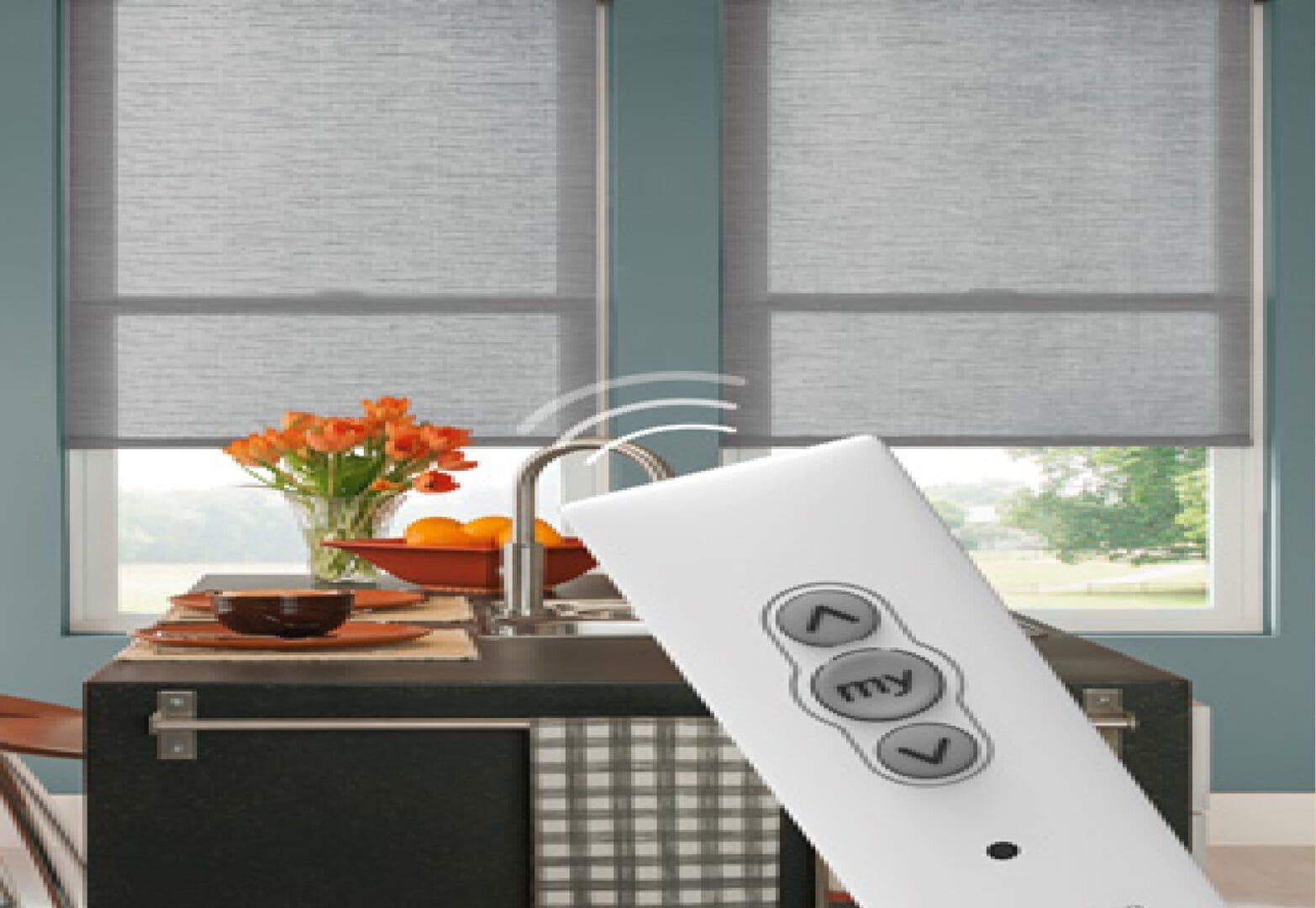 MANUAL AND MOTORIZED EXTERIOR SHADES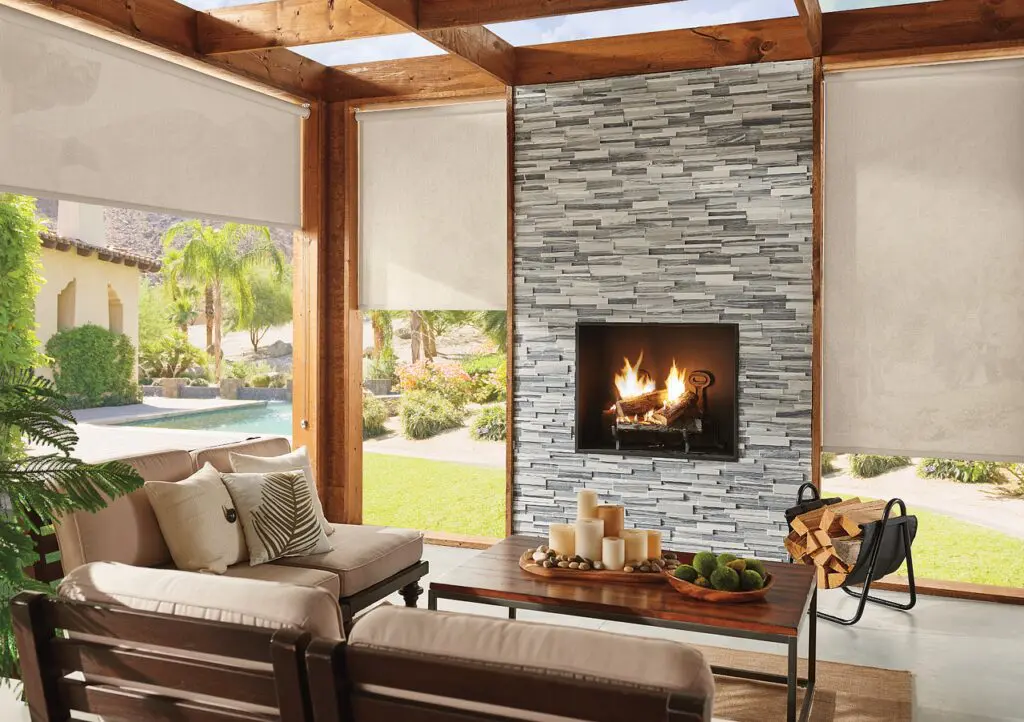 Have you ever wanted to stop the heat and sun rays from entering your home? Are you trying to find ways to reduce your energy bill costs?
Well, exterior solar shades can do just that! Having motorized exterior shades makes it that much easier to control the amount of sunlight coming into a room with the touch of a button.
We offer a variety of motorized solar shades manufactured from the highest quality materials. Solar shades come in a variety of colors to coordinate with the exterior of your home or business. Our exterior solar shades come with limited lifetime warranties, and many are manufactured right here in the USA.
If you are looking for a way to enjoy the summer heat while keeping your home energy efficient, then exterior solar shades might be the solution you have been looking for. Solar shades give a room shade while preventing up to 98% of solar rays from entering your business or home. This will result in lower energy bills since you are decreasing the amount of air conditioning costs.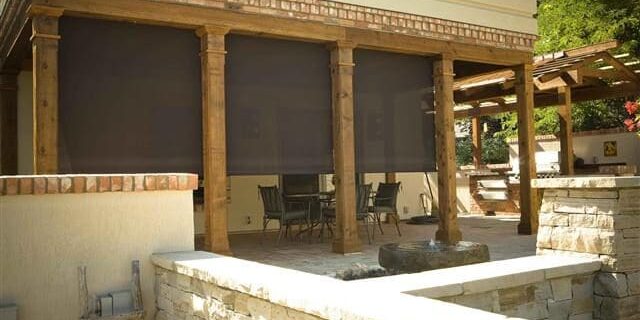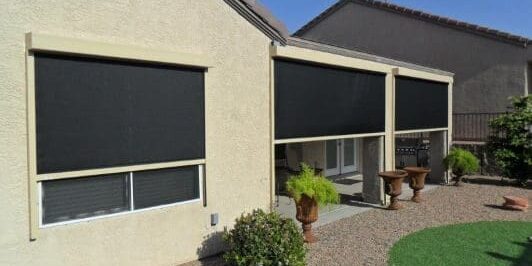 Exterior shades can be installed on any window or patio and can be installed as a standard shaded or a motorized shade. Another added benefit of motorized exterior shades is that you will reduce the amount of glare coming into a room. This is a great option for rooms with a TV or an office with computer monitors.
Motorized exterior shades can be controlled with the touch of a button. The shades will effortlessly go up and down controlling the amount of sunlight entering a room. Motorized exterior shades can be fully automated, which makes controlling the amount of sunlight entering a room easily.
Enhance Your Safety by Motorizing Your Window Treatments
Say goodbye to cords and have better control over your window shades with our motorization service. At World Class Window Coverings, we offer a broad selection of control options for smart and sophisticated shades. These can also be integrated into your home's smart system for easier use.
Things to Consider When Motorizing Window Shades
Available Motorization Products
World Class Window Coverings can motorize our various shades.
Smart App and Gateway: Available for all shades.
Z-Wave Motor: Available for all shades.
Motorized Wand: Available for cellular, solar, and roller shades
Three Remote Options for Local Control
You can motorize your shades in the following ways:
Smart App and Gateway: A home solution for operating shades via phone or voice control
Three Remote Options: Control devices with two or three buttons or multiple channels
Motorized Wand: Intuitive three-button wand attached to the window shade
Your motorized shades can be powered in three easy ways:
Plug-In Transformer
Regular AA Batteries
Rechargeable Battery Pack: Charges in five hours only and lasts for one year
Why Choose Our Motorized Shades?
We provide you with detailed instructions for installing and using motorized shades, control devices, and gateways.
Increased Safety and Security
Motorized window treatments are the perfect protection solution for houses with children and pets. They can be set to open and close even when you're away from home.
Hassle-Free Control System
You can control a single or all shades in your conveniently using a phone or tablet. They can also be operated via voice control applications like Amazon Alexa.
Effective Time Management
Motorized shades can be controlled on routine. With compatible and easy-to-use apps or devices, you can create schedules and set timers for your shades.
By eliminating the need for cords or other tools, motorized shades also lessen the risk of germs spreading throughout your household and family members.
Because they are easy to use, motorized window shades make for great insulation, hence helping you reduce costs and maximize energy efficiency.
Smart App and Gateway
Control your window shades from anywhere with your voice or phone.
Smart App and Gateway
Connect and control your motorized shades with your voice or a gateway device or motorization app.
Convenient mobile app for shade control with iOS or Android devices.
Controls any kind of shade.
Intuitive and user-friendly.
Simple integration. No need for a third-party hub.
Connects with technology for a broader in-home range.
Uses a gateway device that connects the app to shades and devices like Amazon Alexa, and Google Assistant.
Z-Wave Motor Control
Quieter than ever! Available for cellular, solar, roller, sheer, and layered shades.
Z-Wave Motor Control
Word Class Window Coverings upgraded the Z-Wave motor on our window shades.
Available for cellular, solar, roller, sheer, and layered shades.
Makes for a quiet operation and long-lasting performance.
Can be controlled with three remotes and a motorization app.
Low-voltage motorization
Push button control on a shade end cap
Powered with a plug-in transformer, rechargeable battery pack, or non-rechargeable batteries. Electrical hardwiring is not required.
Motorized Wand
Using a motorized wand is the simplest way to motorize your shades. This electric cordless solution is easy, reliable, and quiet. In fact, it's our most silent motor yet.
Motorized Wand
It is an intuitive, three-button wand attached to the shade for the simplest way of motorizing shades.
Attached to the shade to avoid accidentally misplacing remotes.
Available for cellular, solar, and roller shades.
Available in white and black color options.
Comes in a variety of lengths for small to large windows: 24", 36", 48", and 84".
Powered with a plug-in transformer, rechargeable battery pack, or non-rechargeable battery pack.
Rechargeable Battery Pack
Holds 20% more battery charge than other motors.
Rechargeable Battery Pack
It offers a simple and convenient way to power your motorized shades. Free of hassles, maintenance, or disposable batteries.
Only needs to be charged once a year – Powerful 12-volt lithium batteries get fully charged in five hours and last up to a year*
Holds up to 20% more battery charge than other motors**
Compatible with all window shades and motorized wand shades
Capable of retrofits – mounting clips remain the same as the existing battery pack
*Based on 3100 mAh compared to 2600 mAh in the competition.
**Estimated 12-month battery life on an average 48" x 60" shade operated once per day.
Compatible Smart Home Devices
Google Assistant | Amazon Alexa | SmartThings | Wink
Product Solutions Gallery